Overview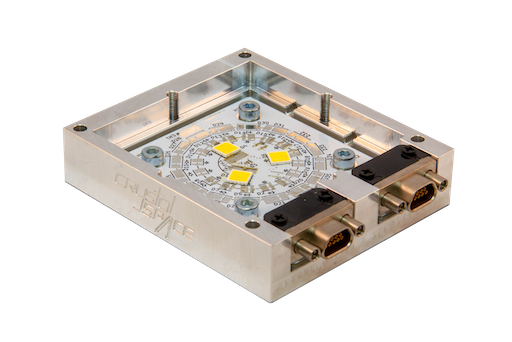 Crystalspace Illumination Module "Tulivagla" (CS-301) is designed for spacecrafts – from satellites to landers and rovers. It is perfect for complementing camera systems to still be able to see in no-to-low light conditions. The Tulivagla module is developed in cooperation with ESA.
Specification
Constantly ON duty cycles:

Input power: 3W: 175mA @ 16.5V

Optical output: 2.3W
Heat dissipation: 1W

Input power: <5.1W: 300mA @ 17V

Optical output: <3.5W
Heat dissipation: <1.6W

Pulsed duty cycles can produce up to 10W optical output
Illumination angle: 120°
Spectral range: 5700K white spectrum
Command interface: Controlled by current input through Micro D9 port
Debug port: temp, voltage and current measurements
Mass: <108g
Dimensions: 75 x 60 x 18 mm
Radiation rating: >300 kRad
Off-the-shelf module specification is described in this block. Nevertheless there is always room for customization.
To get more information please contact us info@crystalspace.eu